The Bronze Age Cemeteries at Karmi Palealona and Lapatsa in Cyprus. Excavations by J.R.B. Stewart
Jennifer M. Webb, David Frankel, Kathryn O. Eriksson & J. Basil Hennessy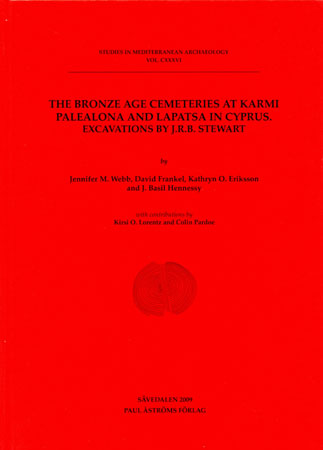 City: Sävedalen
Year: 2009
Publisher: Paul Åströms Förlag
Series: Studies in Mediterranean Archaeology CXXXVI
Description: Hardback, 316 p., 260 b/w figures, 21 tables, 6 b/w plates with figures, 31x21,5 cm
Abstract
In 1961, shortly before his death, the late J.R. Stewart excavated two Early and Middle Bronze Age cemeteries near the village of Karmi on the north coast of Cyprus.
This volume presents the results of this work, including full descriptions of the tombs together with detailed catalogues and illustrations of the rich array of pottery and other grave-goods. This provides an important body of data with which to reassess developments on the north coast of Cyprus in the light of current research elsewhere on the island. Both cemeteries began to be used in the Early Bronze Age. While that at Lapatsa fell out of use, the Palealona cemetery continued into the Middle Bronze Age. The best-known feature of the latter site is the unique carving of a human figure in the entrance to one of the tombs. This, and other significant finds, including an imported Middle Minoan Kamares ware cup, can now for the first time be seen in their complete context.
The substantial final chapter not only reassesses the date and significance of these items and the cemeteries as a whole, but also provides an extended discussion of ceremonial and symbolic behaviour associated with mortuary activities.
Contents
Table of contents [v]
List of tables [ix]
List of figures [xi]
List of plates [xix]
Preface [xxi]
Karmi and its excavations [1]

Introduction [1]
Cemeteries and settlements at Karmi [2]
The excavations [4]

Lapatsa [7]

Lapatsa Tomb 1 [8]
Lapatsa Tomb 2 [15]
Lapatsa Deposit 3 [16]
Lapatsa Tomb 4 [18]
Lapatsa Tomb 5 [22]
Lapatsa Tomb 6 [26]
Lapatsa Tomb 7 [26]
Lapatsa Tomb 8 [31]
Lapatsa Tomb 9 [31]
Lapatsa Tomb 10 [33]
Lapatsa Tomb 11 [33]
Lapatsa Tomb 12 [37]
Lapatsa Deposit 13 [42]
Lapatsa Tomb 14 [44]
Lapatsa Tomb 15 [51]
Lapatsa Tomb 16 [56]
Lapatsa Tomb 17 [57]
Cyprus Museum 1938/II-3/1 [57]
Lapatsa. Miscellaneous finds [59]

Palealona [77]

Palealona Tomb 1 [79]
Palealona Tomb 2 [85]
Palealona Tomb 3 [96]
Palealona Tomb 4 [115]
Palealona Tomb 5 [119]
Palealona Tomb 6 [128]
Palealona Tomb 7 [135]
Palealona Tomb 8 [135]
Palealona Tomb 9 [138]
Palealona Tomb 10 [141]
Palealona Tomb 11 [149]
Palealona Tomb 12 [155]
Palealona Tomb 13 [157]
Palealona Tomb 14 [169]
Palealona Tomb 15 [169]
Palealona Tomb 16 [173]
Palealona Tomb 17 [173]
Palealona Tomb 18 [173]
Palealona. Miscellaneous finds [176]

Karmi in context [201]

The cemeteries [201]
Tomb assemblages [207]
Ritual and social behaviour [235]
Karmi in its regional and historical context [247]
Epilogue [254]
Appendices
Human remains in the Nicholson Museum by Colin Pardoe [255]
Human remains in the Cyprus Museum by Kirsi O. Lorentz [265]
Bibliography [275]
Plates
---