Cyprus was very much part of Neolithic revolution
Past Horizons, 10-12-2013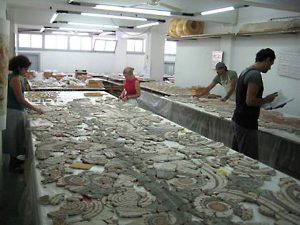 Artefacts found at an archaeological site in Cyprus support a new theory that humans occupied the Mediterranean island about 1,000 years earlier than previously believed – a discovery that fills an important gap in Cypriot history. Excavations at Ayia Varvara-Asprokremnos (AVA) by archaeologists from the University of Toronto, Cornell University and the University of Cyprus have uncovered, among other objects, the earliest complete human figurine on the island. The site has been carbon-dated to between 8800-8600 BC, near the beginning of the Neolithic Period when the transition from hunting to farming economies was occurring throughout the Middle East.
"This tells us that Cyprus was very much a part of the Neolithic revolution that saw significant growth in agriculture and the domestication of animals," says Sally Stewart, a research fellow at U of T's Archaeology Centre and Department of Anthropology. "With farming came a surplus of wealth, in both food and time. People now had the time to specialise in other roles such as manufacturing, and they had the time to spend making figurative art."
The figurine – a complete female statuette – was found in a collection of igneous stone objects that also included two flat stone tools, one with extensive red ochre residue. The presence of tools provides further evidence of significant manufacturing activity associated with the production of chipped stone instruments and the processing of ochre. It likely also explains the location of the site, which is adjacent to a chalk bed and large sulphite deposits.
Read more: http://pasthorizonspr.com