ΑΘΥΡΜΑΤΑ: Critical Essays on the Archaeology of the Eastern Mediterranean in Honour of E. Susan Sherratt
Yannis Galanakis, Toby Wilkinson & John Bennet (επιμέλεια)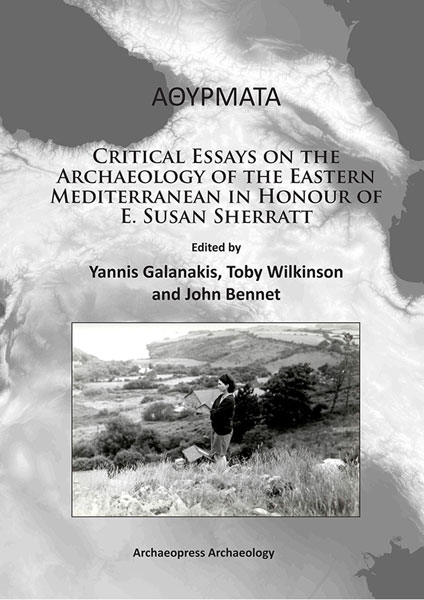 Πόλη: Oxford
Έτος: 2014
Εκδότης: Archaeopress
Περιγραφή: Μαλακό εξώφυλλο, 274 σ., πολυάριθμες έγχρωμες και α/μ εικόνες μέσα στα άρθρα, 29,7x21 εκ.
Περίληψη (στα Αγγλικά)
Over her career Susan Sherratt has questioned our basic assumptions in many areas of the later prehistory of the Mediterranean and Europe, deploying a canny eye for detail, but never losing sight of the big picture. Her collected works include contributions on the relationship between Homeric epic and archaeology; the economy of ceramics, metals and other materials; the status of the 'Sea Peoples' and other ethnic terminologies; routes and different forms of interaction; and the history of museums/collecting (especially relating to Sir Arthur Evans).
The editors of this volume have brought together a cast of thirty-two scholars from nine different countries who have contributed these twenty-six papers to mark Sue's 65th birthday – a collection that seeks to reflect both her broad range of interests and her ever-questioning approach to uncovering the realities of life in Europe and the Mediterranean in later prehistory.
Περιεχόμενα
List of Contributors [iii]
Yannis Galanakis, Toby Wilkinson & John Bennet, Introduction [1-5]
A selected list of publications by Sue Sherratt (as of autumn 2014) [6-10]
Michal Artzy & Jamie Quartermaine, How and when did Tel Akko get its unusual banana shape? [11-22]
Evanthia Baboula, The integration of gold resources in the Byzantine economy: an open question [23-30]
Alexander A. Bauer, The 'Sea Peoples' as an emergent phenomenon [31-39]
Cyprian Broodbank & Evangelia Kiriatzi, Pottery mobility, landscape survey and maritime activity: a view from Kythera [41-49]
William Cavanagh & Christopher Mee†, 'In vino Veritas': raising a toast at Mycenaean funerals [51-56]
Joost Crouwel, Geraki in Laconia in Late Helladic times [57-65]
Oliver Dickinson, How warlike were the Mycenaeans, in reality? [67-72]
Silvia Ferrara, Desecrating signs: 'hieroglyphic' writing systems and secondary script inventions [73-80]
Elizabeth French, Chronologies should carry a 'use by' date: the archaeological life history of the 'Beth Shan Stirrup Jar' [81-84]
Yannis Galanakis, Arthur Evans and the quest for the "origins of Mycenaean culture" [85-98]
Kate Harrell, Man/Woman, Warrior/Maiden: The Lefkandi Toumba female burial reconsidered [99-104]
Helen Hughes-Brock, The Waz-lily and the Priest's Axe: can relief-beads tell us something? [105-116]
Maria Iacovou, 'Working with the shadows': in search of the myriad forms of social complexity [117-126]
Olga Krzyszkowska, James Saumarez Cameron: a forgotten collector of Cretan seals [127-134]
Katie Lantzas, The Post-Mycenaean dead: 'damned if you do, damned if you don't' [135-140]
Joseph Maran & Maria Kostoula, The spider's web: innovation and society in the Early Helladic 'Period of the Corridor Houses' [141-158]
Simone Mühl, 'Metal makes the wheel go round': the development and diffusion of studded-tread wheels in the Ancient Near East and the Old World [159-176]
Tom Pape, Paul Halstead, John Bennet & Yannis Stangidis, "For it is written": an experimental approach to the materiality and temporality of clay documents inscribed in Linear Β [177-185]
Lorenz Rahmstorf, A 'wall bracket' from Kandia in the Argolid: notes on the local character and function of an 'east Mediterranean' artefact of the Late Bronze Age/Early Iron Age [187-195]
Jeremy B. Rutter, Reading post-palatial Mycenaean iconography: some lessons from Lefkandi [197-205]
Philipp W. Stockhammer, Functions and meanings of Aegean-type pottery at Tel Beth-Shean [207-222]
Rik Vaessen, Ceramic developments in coastal Western Anatolia at the dawn of the Early Iron Age [223-232]
Michael Vickers, Beaker Folk in Thrace: a metrological footnote [233-236]
Peter Warren, Rosso antico marble and the faςade entablature of the Treasury of Atreus [237-246]
Todd Whitelaw, Feasts of clay? Ceramics and feasting at Early Minoan Myrtos: Fournou Korifi [247-259]
Toby C. Wilkinson, Dressing the house, dressing the pots: textile-inspired decoration in the late 3rd and 2nd millennia BC east Mediterranean [261-274]
---