MSc in Conservation Studies at UCL Qatar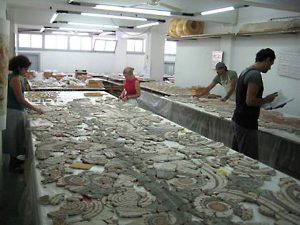 The MSc in Conservation Studies at UCL Qatar is a two-year course that covers a wide range of materials, from objects (metals, glass, stone, ceramics) to textiles and contemporary art, plus archaeological sites and buildings. Students will be trained in the theory and principals of conservation and restoration and will be able to specialise in a material of their choice in the second year. There is a large practical element to the course, including placements at museums, sites and cultural heritage organisations across the Middle East region and further afield, in order to give students the transferrable skills required to assume a leading position as a conservator or within the cultural heritage sector. There is an increasing need for qualified conservators in Qatar and the Gulf region and graduates are expected to be highly sought. Details of our MSc Conservation Studies degree programme can be found online at www.ucl.ac.uk/qatar/study and in the attached booklets.
The deadline to submit an on-time application for our next available intake on 25 August 2014 is 1 May 2014. Applications can be submitted online now by visiting www.ucl.ac.uk/qatar and following the 'Apply Now' link on the homepage.
Since August 2012 we have enrolled over 80 students from 33 nationalities across our four heritage-focused degree programmes. UCL Qatar is a department of UCL based at Education City, alongside a number of the world's most prestigious institutions, with state-of-the-art facilities available, including new conservation and materials science labs that are amongst the most highly equipped in the region.
Scholarships
We offer a generous range of scholarships for successful candidates on the basis of both academic merit and financial need. A standardised application form is sent to offer holders during the admissions cycle in order to allow them to apply to be considered for a scholarship. Funding may include full tuition fees and in some instances support with accommodation and living costs.
Entry requirements:
In order to be successful in securing admission, candidates must have a good Bachelor's degree from a recognised university, normally with a final GPA of 3.3 out of 4.0 (or equivalent). Candidates whose first language is not English may be required to pass an English language qualification (e.g. IELTS) with a score of 7.0 overall. Additionally, applicants must demonstrate strong motivation and a sound understanding of what the course entails, via the personal statement section of the application form.
For further queries please do not hesitate to contact myself, or our Head of Admissions Mr Brett Kershaw: b.kershaw@ucl.ac.uk