Multiple Tombs Hidden in Egypt's Valley of Kings
Owen Jarus, Live Science, 04-12-2013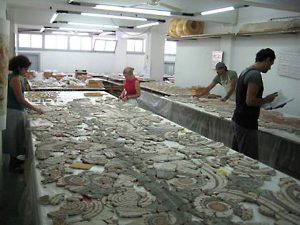 Multiple tombs lay hidden in Egypt's Valley of the Kings, where royalty were buried more than 3,000 years ago, awaiting discovery, say researchers working on the most extensive exploration of the area in nearly a century. The hidden treasure may include several small tombs, with the possibility of a big-time tomb holding a royal individual, the archaeologists say.
Egyptian archaeologists excavated the valley, where royalty were buried during the New Kingdom (1550–1070 B.C.), between 2007 and 2010 and worked with the Glen Dash Foundation for Archaeological Research to conduct ground- penetrating radar studies. The team has already made a number of discoveries in the valley, including a flood control system that the ancient Egyptians created but, mysteriously, failed to maintain. The system was falling apart by the time of King Tutankhamun, which damaged many tombs but appears to have helped protect the famous boy-king's treasures from robbers by sealing his tomb.
The team collected a huge amount of data that will take a long time to analyze properly, wrote Afifi Ghonim, who was the field director of the project, in an email to LiveScience. "The corpus was so extensive it will take years, maybe decades, to fully study and report on," wrote Ghonim, an archaeologist with the Ministry of State for Antiquities in Egypt who is now chief inspector of Giza. The project is part of "the most extensive exploration in the Valley of the Kings since Howard Carter's time," he said, referring to the Egyptologist whose team discovered King Tut's tomb in 1922.
Read more: http://livescience.com