The Philistines and Aegean Migration at the End of the Late Bronze Age
Assaf Yasur-Landau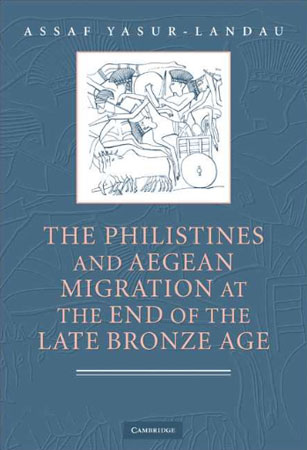 City: Cambridge
Year: 2010
Publisher: Cambridge University Press
Description: Hardback, 412 p., 309 b/w illus., 16 maps, 8 tables, 25,3x21,5 cm
Abstract
The author examines the early history of the biblical Philistines who were among the 'Sea Peoples' who migrated from the Aegean area to the Levant during the early twelfth century BC. Creating an archaeological narrative of the migration of the Philistines, he combines an innovative theoretical framework on the archaeology of migration with new data from excavations in Greece, Turkey, Cyprus, Syria, Lebanon, and Israel and thereby reconstructs the social history of the Aegean migration to the southern Levant. The author follows the story of the migrants from the conditions that caused the Philistines to leave their Aegean homes, to their movement eastward along the sea and land routes, to their formation of a migrant society in Philistia and their interaction with local populations in the Levant. Based on the most up-to-date evidence, this book offers a new and fresh understanding of the arrival of the Philistines in the Levant.
Contents
Acknowledgments page [xi]
Introduction [1]
Uncharted areas and blind spots in the archaeology of the Philistines [2]
The aim of the present study [7]
1. The archaeological identification of migration and other ranges of interregional interactions [9]
Establishing the course of inquiry [9]
Describing interactions and the parameters of interaction [10]
Defining Deep Change [13]
The archaeological identification of migration, when treated as a range of interregional interactions [14]
Migration and deep change in domestic assemblages [15]
Deep change and innovation processes [17]
Demonstrating deep change: Case studies for the influence of migration on behavioral patterns and material culture [19]
Causality of migration [30]
Conclusions [32]
2. Setting the scene: The Mycenaean palatial culture and the outside world [34]
Social complexity in the Mycenaean palatial system [35]
Aegean peoples and Mediterranean geography [38]
Thirteenth-century Aegean maritime capabilities and interregional interactions [44]
Palatial administration and Aegean migration and colonization of the late thirteenth to the early twelfth century BCE [54]
3. The twelfth-century BCE Aegean: political and social background [58]
Changing rulership and the decapitation theory [58]
Social complexity in selected Aegean sites in LHIIIC [60]
Regional aspects of rulership in the twelfth century [81]
The change in imagery and ideology between LHIIIB and LHIIIC [83]
Conclusions [95]
4. Preconditions for migration [97]
Push and pull factors affecting migration [97]
Twelfth-century-BCE sources of information [102]
The maritime option [102]
The land option [114]
Conclusions [120]
5. Along the routes [122]
Investigating routes and new populations [122]
The Aegean hearth [123]
Cooking activities [124]
Cyprus: Interactions along the sea route [138]
Western Anatolia: The expansion of the east Aegean koine [154]
Cilicia and the Amuq: The land route from southeastern Anatolia to Syria [158]
The Syro-Phoenician coast: Along the sea and land routes [164]
Through the Egyptian lens [171]
The origin of the attackers [180]
Conclusions: Twelfth-century interactions along the routes [186]
6. Strictly business? The southern Levant and the Aegean in the thirteenth to the early twelfth century BCE [194]
Mycenaean imports to the southern Levant [194]
Merchants and Mercenaries: Foreigners in Late Bronze Age Canaan [204]
Conclusions: Strictly Business? [214]
7. The material culture change in the twelfth-century Philistia [216]
From Canaan to Philistia [216]
The end of the Bronze Age–Iron Age transition in the Philistine sites [220]
Behavioral patterns as indicators of interaction with Aegean population in the southern Levant [227]
Cooking installations: Hearths, ovens, and tabuns [234]
Form, function, and variability in cooking traditions [238]
Assessing the degree of change [240]
Patterns of use of the pottery assemblage: Storing and serving food and drink in Aegean and local styles [241]
LHIIIC-Style pottery: Local production of traded pottery or a domestic assemblage? [243]
Serving and storage vessels in the local, Canaanite tradition [255]
Cypriot (and Egyptian?) shapes [262]
The nature of the Aegean-style and Canaanite ceramic repertoires in Philistia [262]
Pottery production and technology [264]
Textile production [267]
The organization of domestic space [270]
Conclusions: Philistine house, Philistine migrants [279]
8. The Philistine society and the settlement process [282]
Settlement patterns in Philistia [282]
Economy [295]
Trade [300]
Ceremonial and cultic activity [302]
Elite in the pentapolis [307]
Literacy and administration [308]
The role of women in the Aegean migration [313]
Social stratification in twelfth-century Philistia [315]
Chronology and the paradigm of unified migration [315]
The origin of the migrants [325]
Conclusions [330]
9. A short history of the Aegean immigration to the Levant [335]
A land much divided: The world that created the Aegean migration [335]
A family portrait with an ox wagon: On the routes to the East [336]
The arrival [338]
The settlement [340]
Aegean life abroad: The making of Philistia [342]
Bibliography [347]
Index [383]
---