Aegean Metallurgy in the Bronze Age. Proceedings of an International Symposium held at the University of Crete, Rethymnon, Greece, on November 19-21, 2004
Iris Tzachili (επιμέλεια)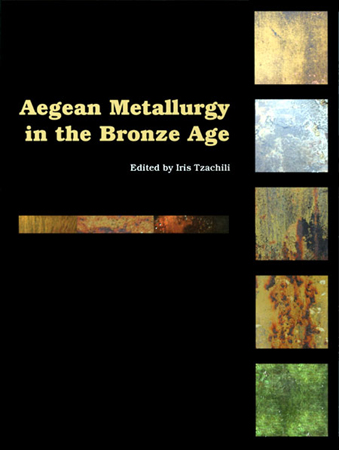 Πόλη: Αθήνα
Έτος: 2008
Εκδότης: Τα πράγματα
Περιγραφή: Μαλακό εξώφυλλο, 345 σ., ασπρόμαυρες και έγχρωμες εικόνες, 28x21 εκ.
Περίληψη (στα Αγγλικά)
The jigsaw puzzle of the metallurgy and metalworking of the Aegean is slowly being completed. It is being filled in by new finds, new methods, and analyses that point to new possibilities. The pieces of the puzzle are still difficult to assemble: our knowledge is frequently fragmented, both geographically and chronologically. Nevertheless it is now possible to arrive at a minimum series of technical events in a chronological and geographical sequence, not just a sequence of abstract technological development, following a continuous and linear concept. The effort is rather directed to plotting the evidence in chronological, technical and geographical correspondence, albeit with a number of gaps, regressions and delays.
Περιεχόμενα
Iris Tzachili, 'Αegean Metallurgy in the Bronze Age: recent developments' [7-33].
James D. Muhly, 'Αn introduction to Minoan Archaeometallurgy' [35-41].
The First Steps: Silver, Copper and Arsenical Bronze
Olga Kakavogianni, Kerasia Douni & Fotini Nezeri, 'Silver metallurgical finds dating from the end of the Final Neolithic Period until the Middle Bronze Age in the area of Mesogeia' [45-57].
Stratis Papadopoulos, 'Silver and copper production practices in the prehistoric settlement at Limenaria, Thasos' [59-67].
James D. Muhly, 'Ayia Photia and the Cycladic Element in Early Minoan metallurgy' [69-74].
Andonis Vasilakis, 'Silver metalworking in prehistoric Crete. An historical survey' [75-85].
Noel H. Gale, Maria Kayafa & Zofia A. Stos-Gale, 'Early Helladic metallurgy at Raphina, Attica, and the role of Lavrion' [87-104].
Philip P. Betancourt, 'The copper smelting workshop at Chrysokamino: Reconstructing the smelting process' [105-111].
Mihalis Catapotis, Oli Pryce & Yannis Bassiakos, 'Preliminary results from an experimental study of perforated copper-smelting shaft furnaces from Chrysokamino (Eastern Crete)' [113-121].
Thomas Tselios, 'Pre-palatial copper metalworking in the Mesara plain, Crete' [123-129].
The Minoan Metallurgical Tradition
Carole Gillis & †Robin Clayton, 'Tin and the Aegean in the Bronze Age' [133-142].
Jefrey Soles, 'Μetal hoards from LM IΒ Mochlos, Crete' [143-156].
Thomas M. Brogan, 'Metalworking at Mochlos before the appearance οf the Artisans' Quarters' [157-167].
George Papasavvas, 'A closer look at the technology of some Minoan gold rings' [169-181].
Hubert La Marle, 'Minoan metallurgy and Linear A: Definitions, lexical slides and technological changes' [183-193].
Quantitative Assessments
Lena Hakulin, 'Bronzeworking on Late Minoan Crete: An overview based on published data' [197-209].
Maria Kayafa, 'Copper-based artefacts in the Bronze Age Peloponnese: A quantitative approach to metal consumption' [211-223].
The Wider Mediterranean Context
Fulvia Lo Schiavo, 'Oxhide Ingots in the central Mediterranean: Recent perspectives' [227-245].
Emeri Farinetti, 'A digital archive for oxhide ingots' [246-248].
Vasiliki Kassianidou, 'The formative years of the Cypriot copper industry' [249-267].
Technological Questions
George Papadimitriou, 'The technological evolution of copper alloys in the Aegean during the prehistoric period' [271-287].
Demetrios Anglos, James D. Muhly, Susan C. Ferrence, Krystalia Melessanaki, Anastasia Giakoumaki, Stephania Chlouveraki & Philip P. Betancourt, 'LIBS analysis of metalwork from the Ayios Charalambos cave' [289-296].
Nikos Kallithrakas-Kontos & Noni Maravelaki-Kalaitzaki, 'EDXRF study of Late Minoan metal artworks'[297-303].
Anno Hein & Vassilis Kilikoglou, 'Finite Element Analysis (FEA) of metallurgical ceramics. assessment of their thermal behaviour' [305-313].
Lia Karimali, 'Lithic and metal tools in the Bronze Age Aegean: a parallel relationship' [315-325].
Iris Tzachili, 'An addendum: Were there sources of metal ores on Crete or not?' [327-329].
---