Spondylus in Prehistory. New data and approaches. Contributions to the archaeology of shell technologies
Fotis Ifantidis & Marianna Nikolaidou (επιμ.)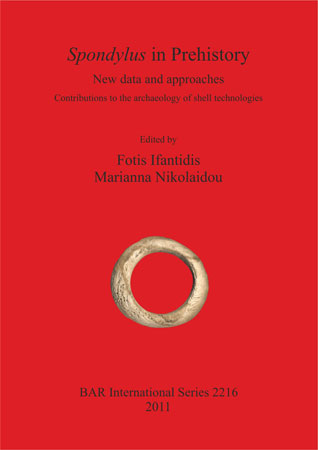 Πόλη: Οξφόρδη
Έτος: 2011
Εκδότης: Archaeopress
Σειρά: BAR S2216
Περιγραφή: Μαλακό εξώφυλλο, xiv+237 σ., έγχρωμες και ασπρόμαυρες εικόνες, χάρτες, πίνακες, 29,7x21 εκ.
Περίληψη (στα Αγγλικά)
This volume offers a broad and up-to-date discussion of the Spondylus "phenomenon" in prehistory, in diverse archaeological contexts from Europe and two areas of the New World. It brings together new archaeological data, methodological advances, and current interpretations for the study of this important material. Further understanding comes from consideration of other shell technologies, ancient and traditional. The core of the book consists of papers that were first presented in a special session on "Spondylus in European Prehistory: New Data and Approaches – A Session on the Archaeology of Shell Technologies", organized by the editors for the 13th Annual Meeting of the European Association of Archaeologists, Zadar, Croatia, 18-23 September 2007.
Περιεχόμενα
Marianna Nikolaidou & Fotis Ifantidis, 'Introduction: A Volume on Spondylus' [3-8]
I – Spanning Space and Time in Spondylus Studies: Artifacts, Symbols, Identities
1. Esteban Álvarez-Fernández, 'Spondylus Shells at Prehistoric Sites in the Iberian Peninsula' [13-18]
2. Álvaro Arrizabalaga, Esteban Álvarez-Fernández & María-José Iriarte, 'Spondylus sp. at Lezetxiki Cave (Basque Country, Spain): First Evidence of its Use in Symbolic Behavior during the Aurignacian in Europe' [19-24]
3. Maria Angelica Borrello & Roberto Micheli, 'Spondylus gaederopus in Prehistoric Italy: Jewels from Neolithic and Copper Age Sites' [25-37]
4. Jan John, 'Status of Spondylus Artifacts within the LBK Grave Goods' [39-45]
5. Zsuzsanna Siklósi & Piroska Csengeri, 'Reconsideration of Spondylus Usage in the Middle and Late Neolithic of the Carpathian Basin' [47-62]
6. Benjamin P. Carter, 'Spondylus in South American Prehistory' [63-89]
II – Views from the "Threshold": Spondylus Technologies in the Aegean
7. Tatiana Theodoropoulou, 'Spondylus gaederopus in Aegean Prehistory: Deciphering Shapes from Northern Greece' [93-104]
8. Maria Pappa & Rena Veropoulidou, 'The Neolithic Settlement at Makriyalos, Northern Greece: Evidence from the Spondylus gaederopus Artifacts' [105-121]
9. Fotis Ifantidis, 'Cosmos in Fragments: Spondylus and Glycymeris Adornment at Neolithic Dispilio, Greece' [123-137]
10. John C. Chapman, Bisserka I. Gaydarska, Evangelia Skafida & Stella Souvatzi, 'Personhood and the Life Cycle of Spondylus Rings: An Example from Late Neolithic, Greece' [139-160]
11. Nina Kyparissi-Apostolika, 'Spondylus Objects from Theopetra Cave, Greece: Imported of Local Production?' [161-167]
III – Reconstructing Lives: Archaeometric and Experimental Analyses
12. Katerina Douka, 'The Contribution of Archaeometry to the Study of Prehistoric Marine Shells' [171-180]
13. Šárka Hladilová, 'Paleobiological Study of Spondylus Jewelry found in Neolithic (LPC) Graves at the Locality Vedrovice (Moravia, Czech Republic)' [181-189]
14. Rena Veropoulidou, 'Spondylus gaederopus Tools and Meals in Central Greece from the 3rd to the Early 1st Millennium BCE' [191-208]
15. Adrián Velázquez Castro, Belem Zúñiga Arellano & Norma Valentín Maldonado, 'Pre-Hispanic Attire made of Spondylus from Tula, Mexico' [209-219]
Marianna Nikolaidou, 'Concluding Commentary: Lives and Journeys, of Spondylus and People. A Story to Conclude' [223-237]
---