The Lost World of Old Europe: The Danube Valley, 5000-3500 BC
David W. Anthony (επιμέλεια)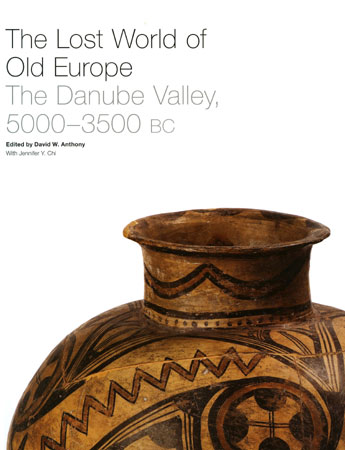 Πόλη: New York
Έτος: 2010
Εκδότης: The Institute for the Study of the Ancient World & Princeton University Press
Περιγραφή: Σκληρό εξώφυλλο, 254 σ., 220 έγχρωμες εικόνες, 20 ασπρόμαυρες εικόνες, 25 σχέδια, 28,6x23,7 εκ.
Περίληψη (στα Αγγλικά)
In the prehistoric Copper Age, long before cities, writing, or the invention of the wheel, Old Europe was among the most culturally rich regions in the world. Its inhabitants lived in prosperous agricultural towns. The ubiquitous goddess figurines found in their houses and shrines have triggered intense debates about women's roles. The Lost World of Old Europe is the accompanying catalog for an exhibition at New York University's Institute for the Study of the Ancient World. This superb volume features essays by leading archaeologists as well as breathtaking color photographs cataloguing the objects, some illustrated here for the first time.
The heart of Old Europe was in the lower Danube valley, in contemporary Bulgaria and Romania. Old European coppersmiths were the most advanced metal artisans in the world. Their intense interest in acquiring copper, Aegean shells, and other rare valuables gave rise to far-reaching trading networks. In their graves, the bodies of Old European chieftains were adorned with pounds of gold and copper ornaments. Their funerals were without parallel in the Near East or Egypt. The exhibition represents the first time these rare objects have appeared in the United States.
Περιεχόμενα
Letter from Roger S. Bagnali (Director, Institute for the Study of the Ancient World, New York University) [6]
Letter from Crisan Museteanu (Director, The National History Museum of Romania, Bucharest) [8]
Letter from Gheorghe Dumitroaia (Director, Neamt County Museum Complex, Piatra Neamt) [10]
Letter from Läcrämioara Stratulat (Director, Moldova National Museum Complex, Iasi) [12]
Letter from Valentin Pletnyov (Director, Varna Regional Museum of History, Varna) [14]
Letter from Eugen Sava (National Museum of Archaeology and History of Moldova, Chisinäu) [16]
Jennifer Y. Chi (Associate Director for Exhibitions and Public Programs, Institute for the Study of the Ancient World, New York University), Foreword [18]
Acknowledgments [22]
Map of the Region and Selected Sites [26]
1. David W. Anthony, 'The Rise and Fall of Old Europe' [28]
2. loan Opris and Cätälin Bern, 'A History of Archaeology and Museography in Romania' [58]
3. John Chapman, 'Houses, Households, Villages, and Proto-Cities in Southeastern Europe' [74]
4. Dragomir Nicolae Popovici, 'Copper Age Traditions North of the Danube River' [90]
5. Douglass W. Bailey, 'The Figurines of Old Europe' [112]
6. Cornelia-Magda Lazarovici, 'Cucuteni Ceramics: Technology, Typology, Evolution, and Aesthetics' [128]
7. Ernst Pernicka and David W. Anthony, 'The Invention of Copper Metallurgy and the Copper Age of Old Europe' [162]
8. Michel Louis Séfériadès, 'Spondylus and Long-Distance Trade in Prehistoric Europe' [178]
9. Vladimir Slavchev, 'The Varna Eneolithic Cemetery in the Context of the Late Copper Age in the East Balkans' [192]
10. Veaceslav Bicbaev, 'The Copper Age Cemetery of Giurgiulesti' [212]
Museum Abbreviations [226]
Exhibition Checklist [228]
Bibliography [240]
Photography and Drawing Credits [254]
---