The Minoan Double Axe. An experimental study of production and use
Maria Lowe Fri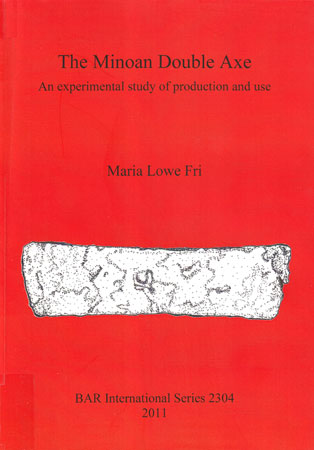 Πόλη: Oxford
Έτος: 2011
Εκδότης: Archaeopress
Σειρά: BAR International Series 2304
Περιγραφή: Μαλακό εξώφυλλο, viii & 140 σ., έγχρωμες και α/μ εικόνες στο κείμενο, 29,5x20,8 εκ.
Περίληψη (στα Αγγλικά)

This study investigates the double axe as a tool in Crete during the Minoan period. Previous scholars have attributed the double axe to the equipment of a woodworker, a carpenter, a stonemason and a butcher. The working activities performed by the different users plausibly would have left various kinds of use-wear on the axe, but this has not been studied until now. Therefore the aim was to either exclude or confirm use and users of the double axes by conducting diverse investigations. In order to reach such conclusions twenty-three double axes were closely examined for traces of manufacturing methods and different use-wear, and in addition experimental work was conducted to substantiate my interpretations of the Minoan double axes.
Past research has often included a new typology and, after studying the already existing ones, I concluded that they did not meet the requirements needed to study the double axes with all their variations and individual features. My new typology, which considered every feature of the double axe, did not develop as expected. It became too complex and more difficult to use than any of the earlier ones; this became apparent when working with the double axes housed at the archaeological museums at Rethymnon and Chania. To construct a typology and place the axes within it is not the most effective way to approach and understand what the double axes were used for. I was led to conclude that the different types of axes identified were a product primarily of different finishing treatments, which means that all the axes were cast in similar moulds and then worked into the required shape. In addition, resharpening could have had an effect on the axe shape. The whole manufacturing chain was studied because this approach allowed conclusions to be drawn about the casting techniques during the Bronze Age in Crete. This also exerts influence on the quality of the axes, which in turn would directly affect the suitability of the end product for this or that purpose.
Περιεχόμενα
List of figures [iv]
List of tables [vi]
Acknowledgements [vii]
1. INTRODUCTION [1]
2. ARCHAEOLOGICAL EVIDENCE FOR DOUBLE AXE PRODUCTION [7]
3. ANALYSES OF MANUFACTURING [18]
4. ANALYSES OF USE [35]
5. EXPERIMENTS WITH MODERN CAST DOUBLE AXES [46]
6. USE AND USERS [66]
7. SUMMARY [75]
8. CATALOGUE [78]
9.GLOSSARY [122]
APPENDIX I. THE MODERN CAST DOUBLE AXES [125]
APPENDIX II. OTHER MANUFACTURED TOOLS [127]
BIBLIOGRAPHY [128]
---